Hemthrin Duo
Specifications:-
Technical Name : Chorpyrifos + Cypermethrin
Formulation : Chlorpyrifos 50 % + Cypermethrin 5 % EC
Compatibility : Compatible with most fungicide, insecticide.
Mode of Action : Fast acting broad spectrum insecticide with contact & stomach action. Non-systemic but penetrate deep in plant tissue. Cholinesterase inhibitor (AChE) & Sodium channel modulator.
Activity Spectrum : Used for control of bollworm complex and white flies.
Available Packing : 100 ml, 250 ml, 500 ml, 1 Lit & 5 Lit.
Product Features:-
Broad spectrum insecticide very effective against sucking pest as well as chewing and biting insects on various crops.
Get rapidly absorbed by plant tissue and gives quick knock down effect.
Easily emulsifies in water and forms a stable spray.
Safe for environment and beneficial insects.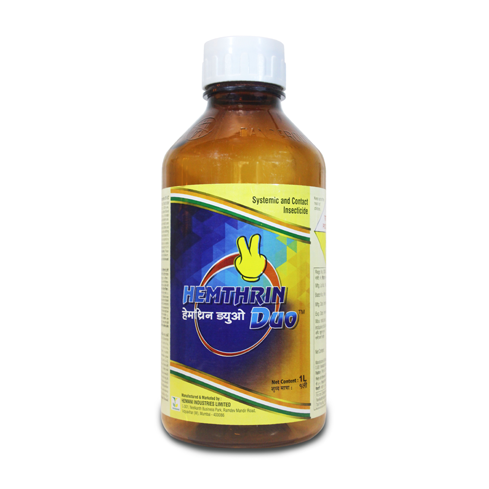 Approved Recommendations:-
| Crop | Pest | Application dose/acre |
| --- | --- | --- |
| Rice | Stem borer Leaf folder | 400 ml – 500 ml |