Hemtox
Specifications:-
Technical Name : Cartap Hydrchloride
Formulation : 4 % GR
Compatibility : Not Compatible with any others.
Mode of Action : contact and stomach action on insect and pests
Activity Spectrum : Highly effective for the control of stem borrer and leaf folder in rice crop.effective against both sucking and chewing insects and controls them at low concentration.
Available Packing : 1 Kg & 5 Kg.
Product Features:-
Highly effective for control of stem borer and leaf folder in Rice.
Controls almost all stages of insect pests & has prolonged efficacy.
Nontoxic to mammals and has no effect on natural enemies of insects pests.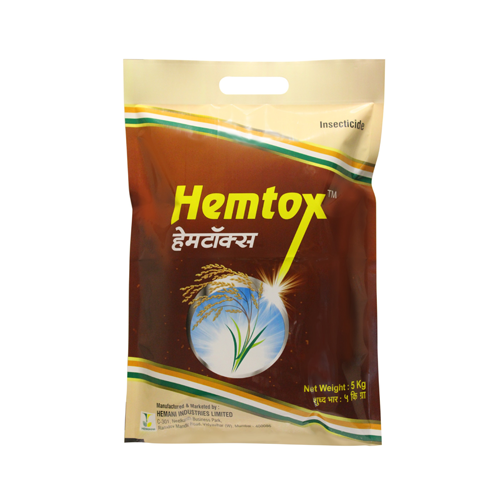 Approved Recommendations:-
| Crop | Pest | Application dose/acre |
| --- | --- | --- |
| Rice | Stem borer | 8Kg |