Hemthrin
Specifications:-
Active Ingredient : Cypermethrin
Formulation : 10 % EC
Compatibility : Compatible with most insecticides, fungicides.
Mode of Action : Non-systemic insecticide with contact and stomach action, anti-feeding action. Good residual effect. Sodium channel modulators.
Activity Spectrum : Highly effective for the control of stem borrer and leaf folder in rice crop.effective against both sucking and chewing insects and controls them at low concentration.
Available Packing : 100 ml, 250 ml, 500 ml, 1 Lit, 5 Lit.
Product Features:-
Broad spectrum insecticide controls wide range of sucking, biting, chewing pests.
Exhibits rapid action - quick knock down effect.
Effective against Lepidopteron pests.
Long persistence - give long time protection
Rain fastness.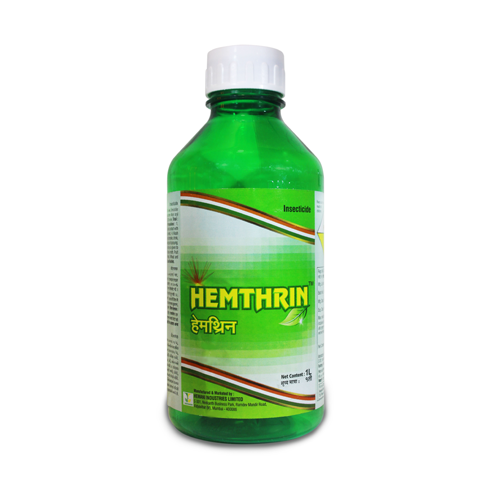 Approved Recommendations:-
| Crop | Pest | Application dose/acre |
| --- | --- | --- |
| Okra | Fruit borer | 300 ml |
| Brinjal | Fruit & shoot borer | 300 ml |
| Sugarcane | Early shoot borer | 300 ml |
| Wheat | Shoot fly | 200ml |
| Sunflower | Bihar hairy caterpillar | 300 ml |