Hemcid
Specifications:-
Active Ingredient : Acephate
Formulation : 75 % SP
Compatibility : Compatible with most Insecticides, fungicides.
Mode of Action : Systemic Insecticide with contact and stomach action. It disrupts nerve impulse transmission by acting in synaptic region
Activity Spectrum : Aphids, Jassids, Boll Worm, Stem borer, Leaf folder, Plant Hoppers, Green leaf hopper.
Available Packing : 100 gm, 250 gm, 500 g, 1kg, 5 kg & 25 kg
Product Features:-
Hemcid is widely used in India for the control of sucking pests in various crops.
Hemcid is Ideal partner for Tank Mix either with CNI or Synthetic pyrethroid.
Also gives excellent control of difficult pests like Heliothis armigera when used as tank mix partner.
Less particle size- Highly soluble in water avoiding blockage of nozzles and get quickly absorbed by plants.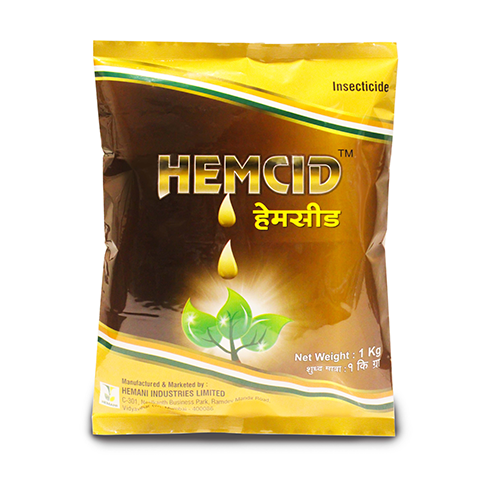 Approved Recommendations:-
| Crop | Pest | Application dose/acre |
| --- | --- | --- |
| Cotton | Jassids,Boll Worms | 300 gm |
| Safflower | Aphids, Jassids | 300 gm |