Hem 5
Specifications:-
Active Ingredient : Chlorpyrifos
Formulation : 50 % EC
Compatibility : Compatible with most fungicides, insecticides.
Mode of Action : Non-systemic with contact, stomach and respiratory action. Cholinesterase inhibitor (AChE).
Activity Spectrum : It is a non-systemic insecticide with contact, stomach & respiratory action. Effective against coleoptera, diptera, homopetera, lepidopetra in soil & on foliage. Also used for control of household pests, mosquitoes & in animal houses.
Available Packing : 250 ml, 500 ml, 1 lit, 5 lit.
Product Features:-
Hem5 is broad spectrum insecticide with contact and stomach poison with fumigation action.
Quick Knockdown with residual control.
Long persistence- Give long time protection to plants.
Safe to environment.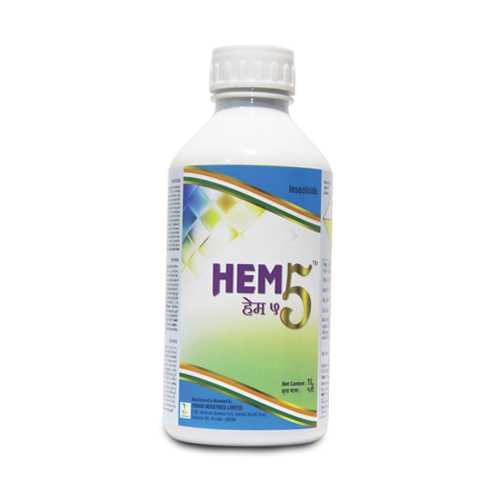 Approved Recommendations:-
| Crop | Pest | Application dose/acre |
| --- | --- | --- |
| Rice | Stem borer,Leaf roller | 200 ml |
| Cotton | Bollworms | 200 ml |